About William Proctor
Editor of the HCSB Light Speed Bible
William Proctor is a bestselling author and sought-after speaker and lecturer who has authored, co-authored, or ghostwritten more than 80 books in the fields of health and fitness, business and investments, religion, personal motivation, and education. His books have been translated into over 40 languages and have sold more than 10 million copies. His 1999 hit, Dr. Kenneth H. Cooper's Controlling Cholesterol, became an international bestseller and spent 18 weeks on The New York Times hardcover bestseller list. Proctor's books have received many awards, including the prestigious Templeton Foundation Book of Distinction Award.

A former reporter, legal correspondent, and crime writer for the New York Daily News, Proctorhas also worked as an on-field mental preparation trainer for professional baseball players. In that capacity, he used techniques described in his national bestseller The Breakout Principle, which he coauthored with Dr. Herbert Benson of the Harvard Medical School.

After graduating magna cum laude from Harvard University and then receiving his J.D. from Harvard Law School, Proctor joined the U.S. Marine Corps as a trial lawyer and military judge, an assignment that took him to Vietnam, Okinawa, the Philippines, and Japan, where he served as a JAG officer. In May of 2004, Proctor returned to Vietnam as a guest lecturer at Hanoi University of Foreign Studies. More recently, he spoke as a faculty member and Evangelical Christian spokesman at a "Spirituality and Healing in Medicine" conference sponsored by the Harvard Medical School's Department of Continuing Education.

He is a member of the Texas Bar and President and CEO of Inkslingers, Inc., which produces books regularly for major publishers. Inkslingers also offers corporate and private business writing and consulting; writing, grammar, and English usage seminars and tutorials for students; and editing and rewriting services for authors of medical journal articles and legal briefs.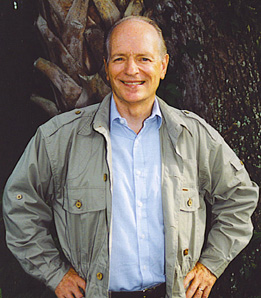 While editing the Light Speed Bible, Proctor combined his background in writing and religious studies with his research in the fields of mind and body relaxation, physiology, and reading/study techniques. The end product of this unique blend is a high-comprehension, whole-Bible reading plan for active people who lead busy lives – a program that makes it possible to read every world of the entire Bible in 24 hours or less, with good comprehension.

Proctor currently lives in Vero Beach, Fla., with his wife, the author Pam Proctor. His son, Mike, is a U.S. Marine Corps pilot. In his spare time, Bill enjoys leading Bible studies at his church and teaching writers' workshops. For more information about Proctor and his books, please consult his entry in Marquis Who's Who in America or visit www.WilliamProctor.com.
Purchase the Light Speed Bible at Amazon.com